In Memory of Meg Sager and Christina Newman

Printed From: TNBC Foundation
Category: TNBC Forums
Forum Name: TNBC Tributes
Forum Description: This is a tribute section on our website to honor members
URL: http://forum.tnbcfoundation.org/forum_posts.asp?TID=12273
Printed Date: Sep 21 2020 at 3:05pm
Software Version: Web Wiz Forums 12.01 - http://www.webwizforums.com


Topic: In Memory of Meg Sager and Christina Newman
---
Posted By: Melissa P.
Subject: In Memory of Meg Sager and Christina Newman
Date Posted: Nov 17 2014 at 11:06pm
---
This article, "I Don't Want to Die" written by Sarah Amento was taken from the Huffington Post, Oct. 31, 2014




This PINK Month, we've lost to many from Triple Negative Breast Cancer. Young women, with young families. Two of these woman have hit me especially hard. Both women, have young daughters.

The first friend that passed this month from Triple Negative Breast Cancer is Meg Sager. Meg was 33 years young at diagnosis of Triple Negative Breast Cancer and 4 months pregnant. Meg went through a radical Mastectomy, 6 rounds of chemo. Meg had baby Cora on Mar. 1, 2014 in between rounds of chemo. After chemo, she did 25 days of radiation until Jun. 30, 2014. After a negative bone scan, two negative liver biopsies, and a negative PET scan it looked like the cancer was beat in May, and radiation was just to make sure. September 5th 2014 Meg got the call from the Doctors office that her cancer had indeed returned. Her oncologist said that people in her circumstance usually have between two and three years to live. Her oncologist prescribed an oral chemo to try to slow the progression of the breast cancer in the liver. But Meg would not get the 2-3 years as hoped for by the doctors.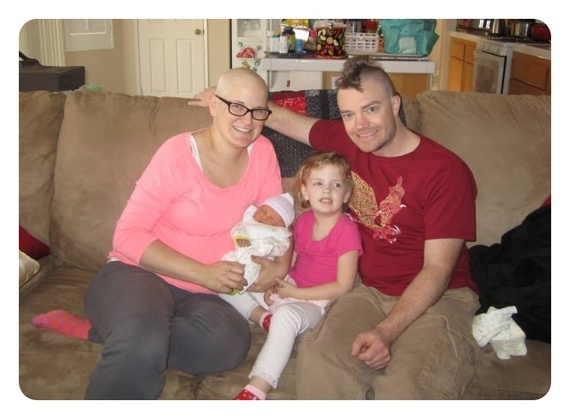 Meg passed away on Oct. 6, 2014. After her re-diagnosis things deteriorated very quickly. Meg's husband Sam explains. "We had three trips to the ER in 4 weeks. One for severe abdominal pain. One for a slight fever and infection which turned into a five day hospital stay. And the last one in the early morning on Oct. 6th. I had to call 911 because she was having trouble breathing. She was rushed to the hospital. As soon as my parents arrived at our house to take care of the girls, I rushed to the hospital myself. Meg was unconscious and on a ventilator when I arrived. She never woke up. Her body slowly began to shut down, and she died later that afternoon. It was an infection that she could not handle in her immunocompromised state." Meg left behind a best friend and husband along with their precious daughters Ellie 4 years old and Cora, 7 months old, along with countless others who loved Meg.
I asked Sam how Ellie was doing, how she is coping. In part so that everyone reading could have a 'window' into the heartache that the young ones that loose their Momma's feel, also selfishly because I wonder because I have young ones Meg's children's age. This is what Sam wrote...
"Ellie is doing the best she can. The hardest thing I've ever done is come home from the hospital sit down with our daughter and explain to her that Mommy can't come home because she died. It was things like this that Meg and would work together to figure out. The first week after Meg passed Ellie would ask in a very sad voice, "When's Mommy coming home?"

It breaks my heart to even think about it. Then I would tell her what happened again. Mommy was really sick. So sick that she had to go to the hospital. And the doctors worked really hard to try to make Mommy better and healthy again, but kept getting sicker. Mommy tried really hard but her body couldn't take it anymore and she died. Mommy loved us so much, and we love Mommy so much that Mommy is in our hearts now. And whenever we get sad or when we miss Mommy all we have to is close our eyes really tight and remember all of the good things we love about Mommy. Then we take turns telling each other something we loved about Mommy or something we loved doing with her.

After that first week Ellie stopped asking when Meg was going to come home. Now she says, "I miss Mommy." Then we go through all the things we remember. Ellie asks me regularly, especially when we snuggle at bedtime, to tell her the whole story. And I do just that. She is starting to get it, and I know she misses Meg so much."
Meg touched the lives of so many people. She brought out the best in people, especially me. She had an unwavering desire to help other people in all things she did. And she loved her family and friends unconditionally.
If you would like to read about the precious Sager family and Meg's journey, they beautifully documented it http://thesagerreport.blogspot.com/2014/10/the-final-round.html" rel="nofollow - here .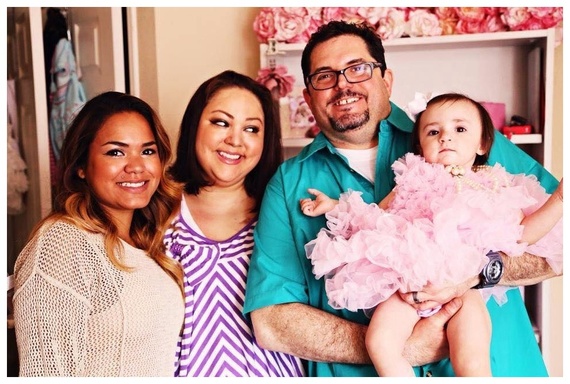 My second friend, just passed Oct 26th 2014. Christina Newman was 40 years young. She leaves behind a beautiful baby girl and her adult daughter along with a heart broken husband, Ernesto. Her passing has happened to quickly for me to get speak with Ernesto in detail, as beautiful Christina Newman still has not been laid to rest. She fought with such courage, grace and strength to the very end. She fought Triple Negative Breast Cancer with every ounce of courage she could, never giving up, being a constant encouragement to her fellow breast cancer 'sisters.' Her death as well as Meg's ripped my heart out, I know how much they loved their families and life....



-------------
"Hope for more Tomorrows"
TNBC dx August 2009, Age 41, Stage 2, 2cm, 0 nodes Lumpectomy/ACx4,Taxolx4/33rads
Triple Negative Breast Cancer, "I Won't Back Down!"
mlsspaskvan.blogspot.com
---
Replies:
---
Posted By: Lillie
Date Posted: Nov 20 2014 at 11:35pm
---
Dear Melissa,
Thank you for sharing Meg and Christina with us. I send my Sympathy to both families. So young and beautiful, beautiful little ones and loving husbands.
I can understand how you are heartbroken. I didn't know them personally and it breaks my heart to know that our sisters are dying so young and leaving young children.
Melissa, you are doing a wonderful work. The support and love that you share with so many is unbelievable.

Love and God Bless,
Lillie

-------------
Dx 6/06 age 65,IDC-TNBC
Stage IIb,Gr3,2cm,BRCA-
6/06 L/Mast/w/SNB,1of3 Nodes+
6/06 Axl. 9 nodes-
8/8 thru 11/15 Chemo (Clin-Trial) DD A/Cx4 -- DD taxol+gemzar x4
No Rads.
No RECON - 11/2018-12 yrs NED
---
Posted By: 123Donna
Date Posted: Nov 21 2014 at 11:27am
---
My heart just breaks to read about losing these two beautiful women and the grief their families are enduring. We need targeted therapy so desperately.




Donna



-------------
DX IDC TNBC 6/09 age 49, Stage 1,Grade 3, 1.5cm,0/5Nodes,KI-67 48%,BRCA-,6/09bi-mx, recon, T/C X4(9/09)
11/10 Recur IM node, Gem,Carb,Iniparib 12/10,MRI NED 2/11,IMRT Radsx40,CT NED11/13,MRI NED3/15


---
Posted By: Melissa P.
Date Posted: Nov 21 2014 at 4:03pm
---
Thank you Lillie. Love and hugs to all. Never lose sight of hope



-------------
"Hope for more Tomorrows"
TNBC dx August 2009, Age 41, Stage 2, 2cm, 0 nodes Lumpectomy/ACx4,Taxolx4/33rads
Triple Negative Breast Cancer, "I Won't Back Down!"
mlsspaskvan.blogspot.com
---